Morning Man NIGHTCAP
Undisputed ZZZZ's For Champion Men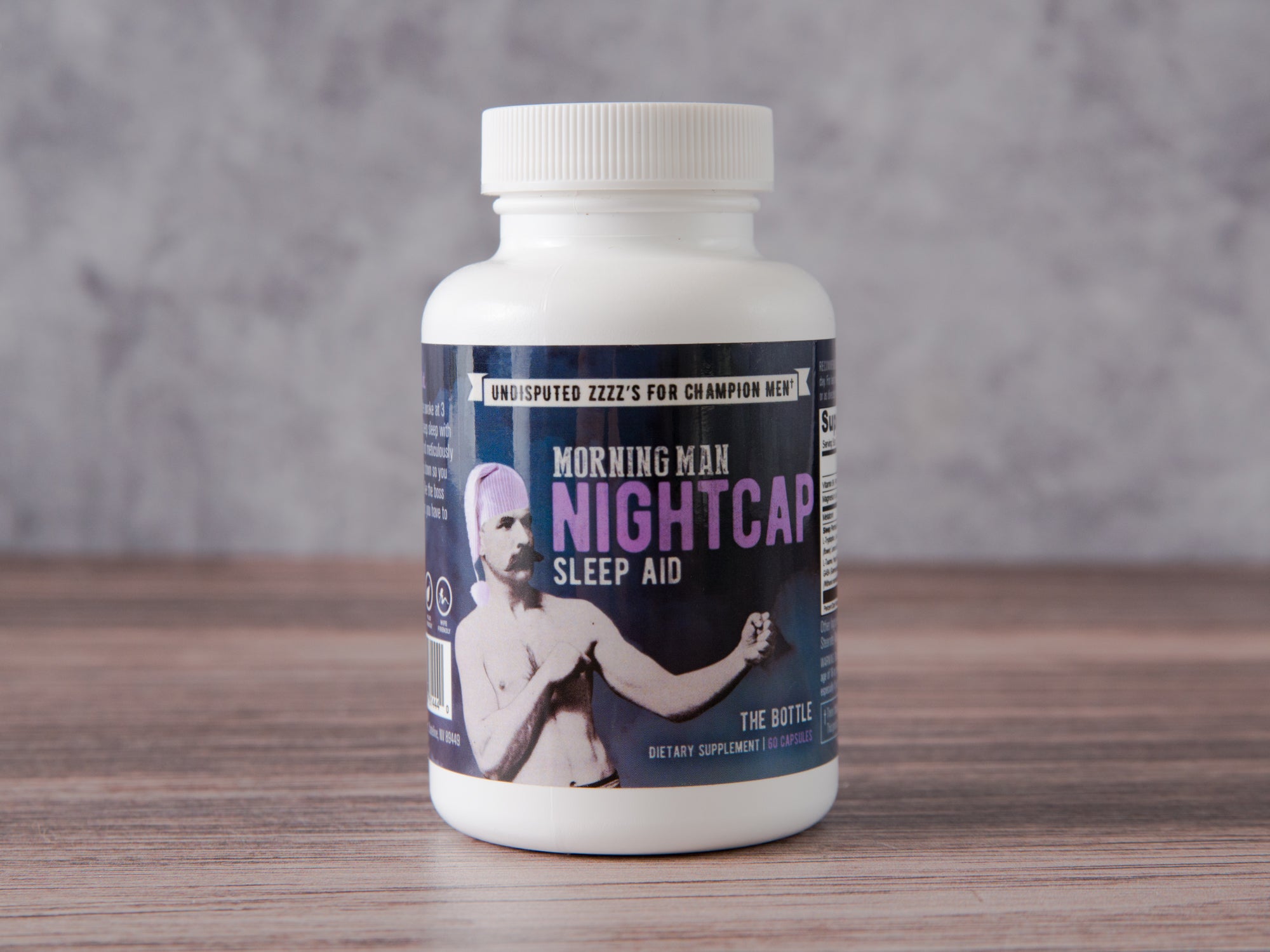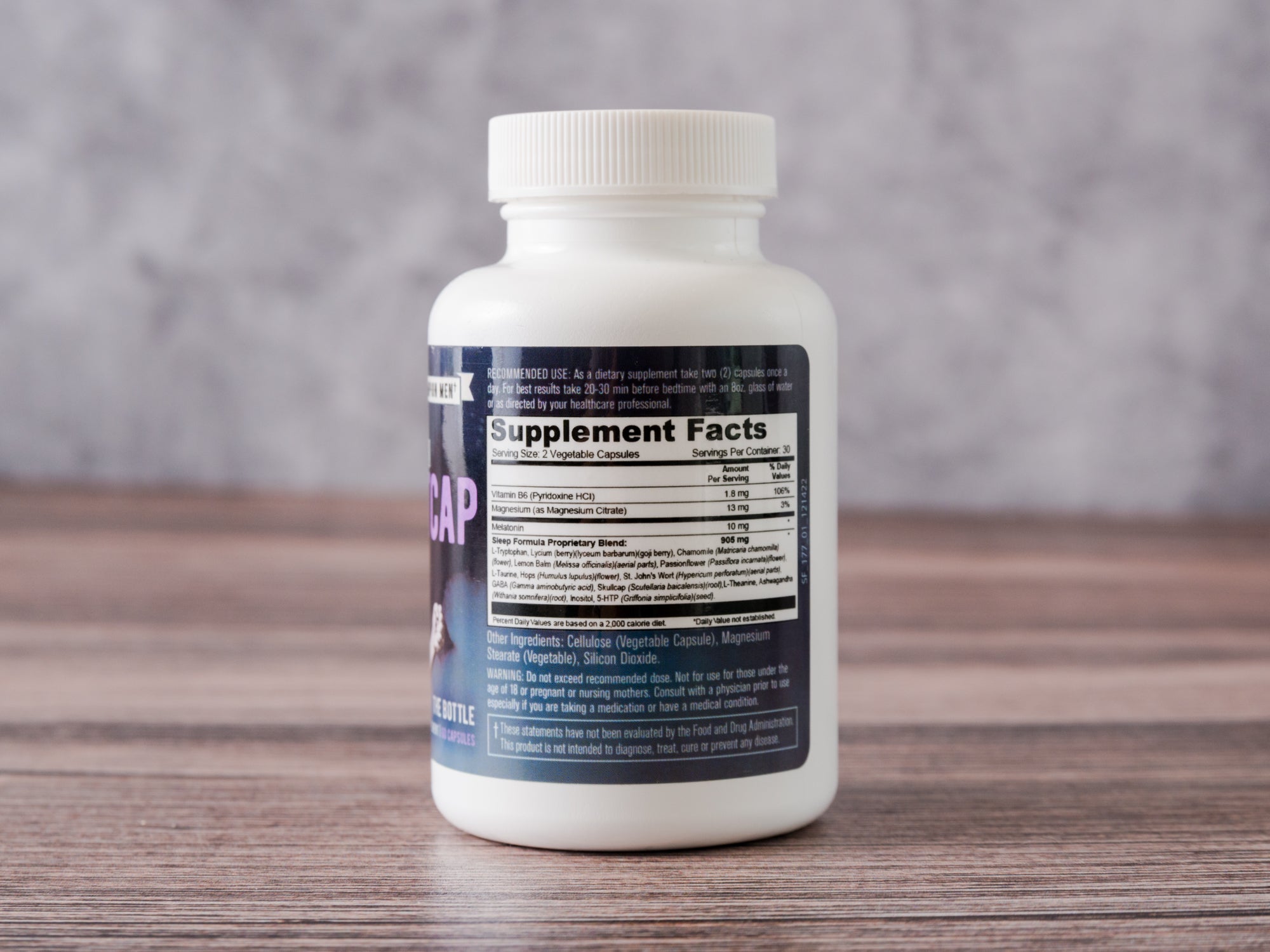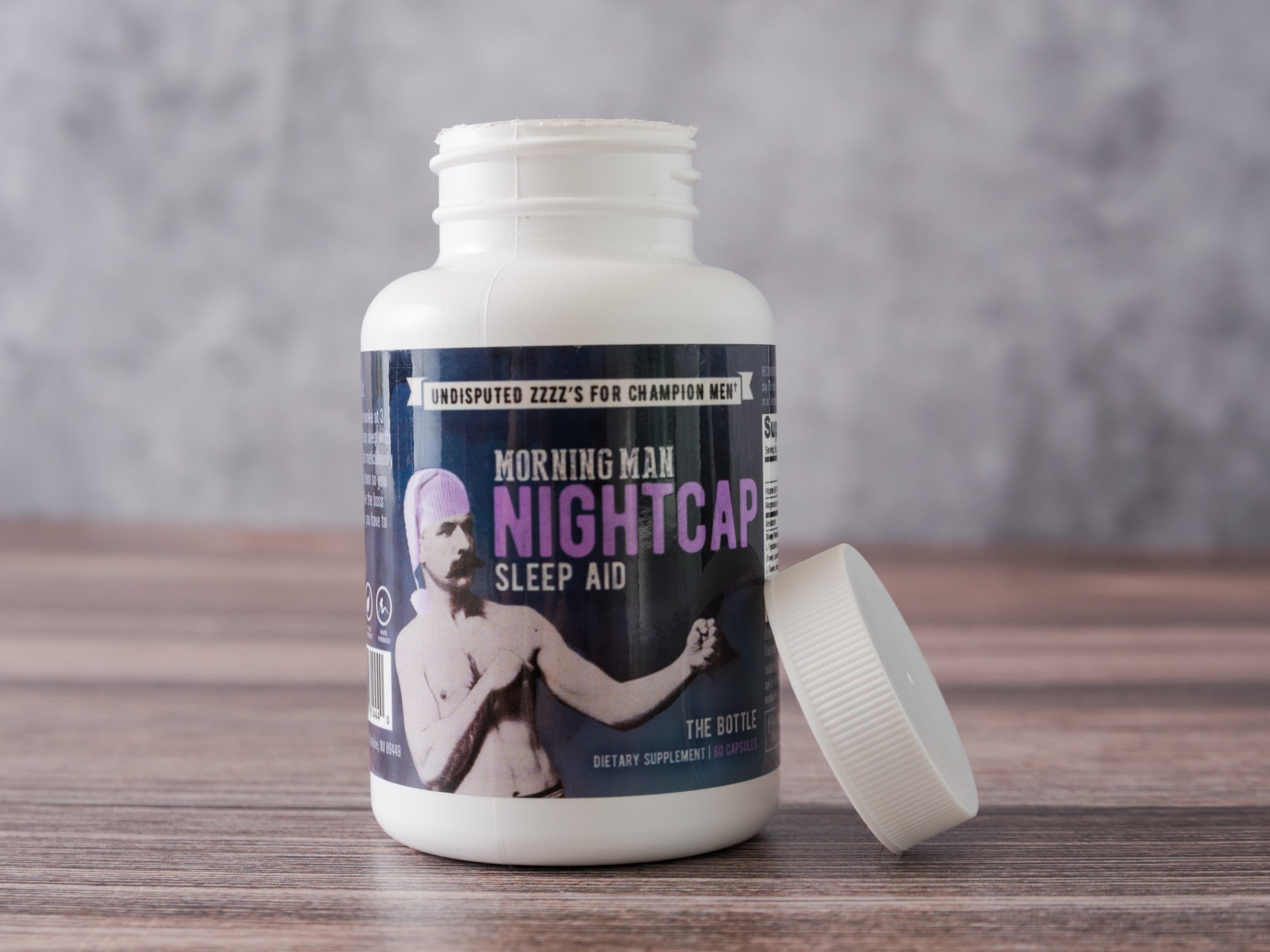 Regular price

List Price:

$29.95

Sale price

$24.95

You save: $

5.00

(17%)

Unit price

per
💊 60 capsules

💪 30 manly days
Free Shipping over $99
365 Day Money Back Guarantee
Can't sleep? Mind racing? Stressed and wide awake at 3 am?
Give yourself the gift of uninterrupted deep sleep with Morning Man NIGHTCAP. Carefully crafted and meticulously blended to knock your ass out and keep you down so you feel rested and recovered to start your day like the boss you are. 
Listen, to be the best Morning Man, you have to start with a solid night's sleep. Period.
Product Highlights
➕ Fall Asleep Fast – If you're anything like us, half the battle is just turning your brain off at night. Nightcap is formulated to put those wandering thoughts at rest so you can finally put those sheep to bed and fall deep asleep.
➕ Stay Asleep All Night – Formulated to keep you enjoying your REM but not so much to halt your ability to protect the wife and kids from burglars and peeping Toms.
➕ Wake Up Feeling Rested & Ready – Unlike mainstream sleep aids, Morning Man Night Cap won't have you waking up drowsier than a drunk turtle. Alarm sounds — eyes open, alert, and ready to crush the day.
Suggested Use
Take 2 capsules with 8-12 oz of water
Product Facts
Serving Size: 2
# of Servings: 30
# of Capsules: 60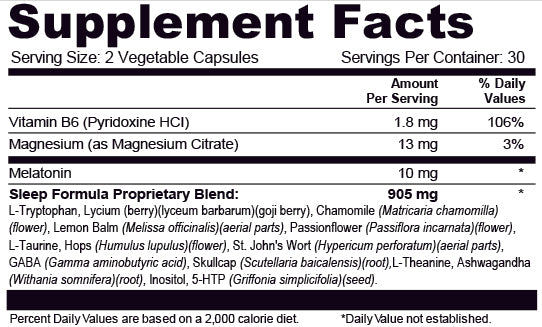 Don't Take It From Us
The Results Speak For Themselves
Best Nighttime Supplement Ever!
I think it is a great product. It works better for me than the generic melatonin supplement that I was previously taking. I fall asleep faster and I am more likely to sleep through the night than I have been in years.
2nd Best thing since the wheel was made.
Wife and kid keep you up at night? Take night cap. Does Bigfoot break into your house every night and play th drums? take night cap. As a fellow morning man greens every morning. Night cap is now part of my routine. Puts you to sleep fast, if you wake up in couple hours. You're not the typical night time remedy struggle bus. This stuff works.
Pass the eff out and sleep like a baby!!!
You should see the 5' tall Sasquatch I have perched in my yard... anyways, I really like the Morning Man Night Cap. After taking it I feel as though I'm able to fall asleep quickly and stay asleep. I think the best thing I can say about it is that upon waking up I don't feel tired or drowsy like other sleep aids. I feel rested and ready to start the day, with a glass of Morning Man Greens naturally. I can say that I would definitely recommend it to a bro seeking better sleep!
Good Sleep Without Sleep Aid Hangover
I like that the ingredients are natural. I used to take ZzzQuill and that stuff does knock you out but you wake up feeling like you're high or drunk. The Night Cap does not leave any kind of that sleep aid hangover. When I take the Night Cap it doesn't knock me out, it gives me that feeling of pumping the brakes after a long day. Like if you were to take it and just watch tv or sit you won't like fall asleep on the spot but it kind of preps your body for sleep. I think sometimes when laying in bed we can't fall asleep because our mind won't shut off and the thoughts keep playing but Night Cap kind of like makes you let go and have more of a blank mind. I used to drink before bed to fall asleep and ive tried many things out there and Night Cap is something im going to be using as part of my night routine. I am a truck driver and my schedule is all over the place which includes having to go to sleep when you dont really want to because you gotta be up at night so this really helps. Something I tried which makes it work faster is if you open the capsules and mix them with some juice if you want it to work quickly. I think at this point most people are using all sorts of stimulants and energy supplements that dont always wear off when you are ready to go to bed so its equally important to supplement with something that helps you actually wind down. Overall I like it, im happy I'll be able to get a morning support and night support all at the same place. Thanks for letting me try this, I like it and will be buying it.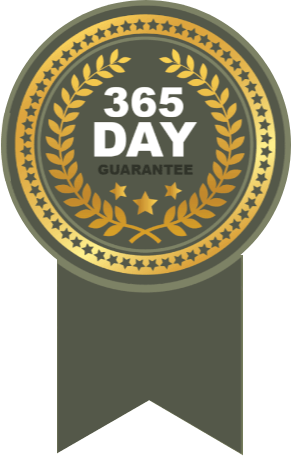 365 day guarantee
---
From one man to another, we want to make sure you love your Morning Man Greens. So we're going to offer you a 365-Day MAN OF OUR WORD Guarantee.
Where in a world where a man's word is bond, we will give you your money back if you want it back. That's our guarantee for 365 days.
If you try it out, hate the taste, don't feel anything, don't like the bag, hate the marketing, or just realize that money is tight and you made a mistake, email us at manly@morningman.org and we got you.
If we don't honor this, then we're breaking our word (which ain't happening).
So rest assured that whatever reason you want a refund, we'll take good care of you. Just do us a favor, don't be a douche troll and buy a large quantity knowing that you're going to refund and take advantage of this guarantee. Karma is real and no one likes you.
THE MORNING MAN CREDO
(THE SWORD WE LIVE AND DIE BY)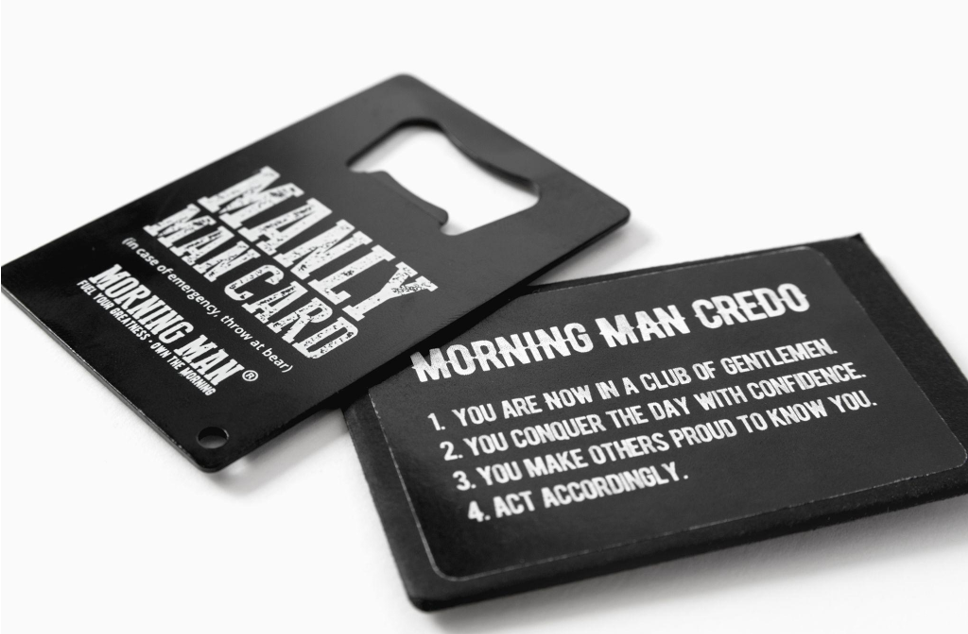 Don't let the outlandish marketing fool you, Morning Man is truly intended to help men live longer, healthier lives in order to be better at work, at home, and in their communities.

We live this, we advocate this, and (even if you don't join us) we
expect you to adopt these principles to be better fathers, brothers, and sons for those you impact in your life.
You are now in a club of gentlemen
You conquer the day with confidence
You make others proud to know you
Act accordingly

You up for the challenge, sir?