Two Morning Man Power Packs
Fuel your greatness, own the morning
Free Power Packs! Shipping $8.95
Two Morning Man Power Packs
Regular price

List Price:

Sale price

$0.00

You save: $

0.00

(Liquid error (snippets/price-v2 line 71): Computation results in 'NaN' (Not a Number)%)

Unit price

per
🥄 30 Servings

💪 30 Manly Days
15% off all subscriptions
Free Shipping over $99
365 Day Money Back Guarantee
Morning Man Greens uses just a small dose of natural caffeine combined with over 75 vitamins, minerals, superfoods, and extracts to deliver all day energy with no crash ever.†
➕

70 Vitamins, Extracts, & Superfoods - Yes, in every single scoop (use as directed)

➕

95 mg of Clean Caffeine (Green Tea Extract / Coffee Bean Extract)

➕

Rush of Probiotics & Enzymes - formulated specifically to increase absorption and bioavailability (just Google it)

➕

Non-GMO, No fillers, Preservatives, or Additives - Ya know, because the wife cares about that stuff
➕
365-day Man Of Our Word Guarantee
- If you try it out, hate the taste, have too...
Suggested Use
1 or 2 tablespoons in the morning, daily. Refrigerate after opening and use within 90 days.
Product Facts
Serving Size: 1 tablespoon # of Servings: 3
Supplement Facts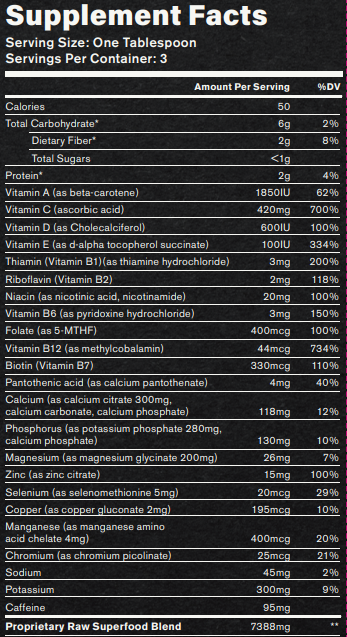 Dietary Restrictions
Gluten Free, Grain Free, Dairy Free, Soy Free, Nut Free, Keto Friendly, Paleo Friendly *Contains Glucosamine, which may be derived from the shells of shellfish. There is concern that the supplement could cause an allergic reaction in people with shellfish allergies.
Don't Take It From Us
Hundreds Of 5 Star Reviews
From Trustworthy Men Just Like You
Awesome product
Great taste and love the way it makes me feel.
Freaking amazing
I'm new to liquid drinks and have tried a few different brands in the last two months. This is by far one of the best tasting ones I've had and am absolutely going to reorder when I run out!
I like it
The taste is not bad I will be ordering
Great
Great taste and we might be ordering more
Two Morning Man Power Packs
great taste
Only a few servings in but WOW does this taste better than the competitor
Great product!
Honestly I was hesitant because i thought it would taste horrible, but man was I wrong! I actually love taking and fell amazing the rest of the day. I have stopped drinking coffee in the mornings! HIGHLY RECOMMENDED!
Meh
Hard to get a real feel for the product with such a small sample size, but I was left feeling underwhelmed. Tastes OK, but I didn't feel any different or more alert on the days I took the product vs. when I didn't.
I have not received anything
I like your product but the over the top emails are hard to decipher. It's hard to tell if it's just a spammy promo or I really need to respond.
"No Fluff, Just Relief."
That's our motto. Our one and only goal is to provide – (you guessed it!) – RELIEF.

Relief from the limitations you've experienced with your body – and Relief from the confusion around how to take care of yourself.

You don't want to add more pills to your daily handful.

If you're like a lot of people, you've had the unpleasant experience of choking down endless capsules or tablets… sure, some of them seem to help, but a lot of them feel like a shot in the dark.

We're all about simplifying… taking the guesswork out, and helping you gently support your body to heal itself and thrive the way nature intended.

That's why our carefully crafted blends contain only the essential vitamins, minerals and exotic plant compounds proven effective in studies and clinical trials.

Some of our ingredients have been celebrated for thousands of years around the world, for their efficacy in providing Relief.

We've borrowed from Ayurvedic practices, Indigenous wisdom, and most importantly, from success stories of people like you, to create simple formulas that work.
"Uncut" Spirulina
Gram for gram, the undisputed single most nutritious food on the planet. So if you're going to mainline Mother Nature, this is Scarface's uncut, little green friend. Y'all mean...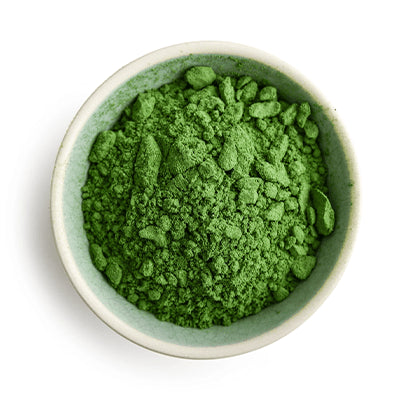 Organic Alfalfa
Have the sh!ts, or lack there of? THIS will be your gut's secret weapon against gas, bloating, and other gut complications. Believe me, you'll thank us later.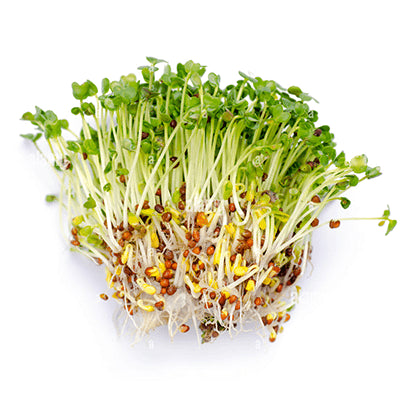 Organic Barley
Barley is a beast when it comes to curbing appetite. Say goodbye to sugary snacks and prepare yourself to stay fuller longer, and lose weight quicker.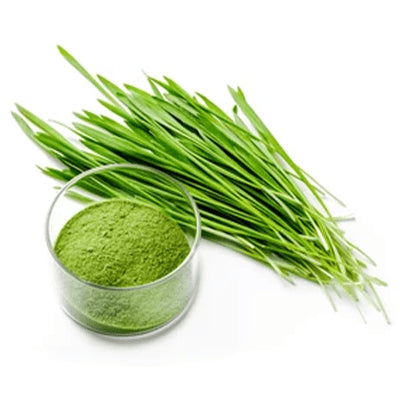 Green Tea Ext.
Ready to get a surge of energy without blowing out your adrenals? This natural clean caffeine will give your body the healthy energy it needs, no crash later.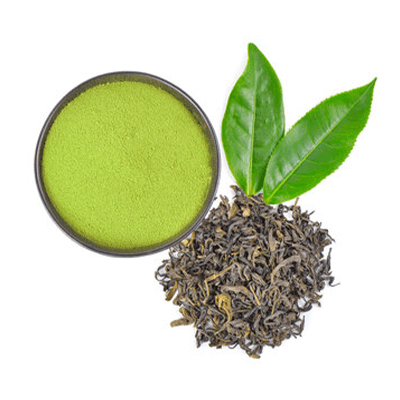 Frequently Asked Questions
YOU: If you think this is just another greens powder... Guess again.

Imagine if Burt Reynolds, Ron Swanson, Macho Man Randy Savage, and the cast of Deadliest Catch made a melting pot of greatness to help YOU crush your day like the savage brute you were designed to be. Morning Man Greens is that melting pot of greatness.

Mix together 1 or 2 scoops, ice and water. Shake, devour and repeat as needed.
As a NATTY Ice and Boons Farm Connoisseur, we know you are a man of good taste. However, sometimes that same taste doesn't extend to vegetables or vitamins (two things your wife reminds you about regularly).
So why go out of your way at dinner to shovel that nonsense down your throat when you can get 100% of your daily dose of vegetables PLUS a natural caffeine kick (no crash later) with just a single scoop of Morning Man Greens to start your day…? Seems like a no brainer to us.

YOU: "Well it's no PBR or BUSCH Ice but for a drink that jumpstarts my day and delivers 43 body rocking whole greens and veggies, it tastes pretty damn good."
YOU: "If I'm going to do something, I better effin' do it right. There are cheaper greens powders out there but only Morning Man Greens will help me live my life like the brutish bastard I was built to be."

(Plus, if your wife presses you about the cost, just remind her about all the money you don't spend on your health... and how it's about time you gave more than one sh&% about your cholesterol, constant diarrhea, or whatever "health issue" she keeps telling you about...

...Oh, and if that doesn't work, remind her how much fancy a$$ coffee costs. Cutting out even one of those sugary caramel macchiato nonsense drinks a week would make Morning Man Greens worth more than the investment. Plus those cups of sugary liquid nonsense do nothing for your greatness.)
We recommend talking to your doctor before using any supplements, to make sure they are safe to take with any current medications and your personal medical history.

YOU: "Are you kidding me?! Look at this, people are buying for the simple fact this Morning Man company is ruthlessly putting trolls in their place..."
YOU: "Yes."

(From one man to another, we want to make sure you love your Morning Man Greens. So we're going to offer you a 365-Day MAN OF OUR WORD Guarantee.

Where in a world where a man's word is bond, we will give you your money back if you want it back. That's our guarantee for 365 days.

If you try it out, hate the taste, don't feel anything, don't like the bag, hate the marketing, or just realize that money is tight and you made a mistake, email us at manly@morningman.org and we got you.

If we don't honor this, then we're breaking our word (which ain't happening). So rest assured that whatever reason you want a refund, we'll take good care of you. Just do us a favor, don't be a douche troll and buy a large quantity knowing that you're going to refund and take advantage of this guarantee. Karma is real and no one likes you.)

In Demand, In Stock & Flying Off The Shelves